Want to pass the Diamond Advanced Test? Prepare with an advanced driving instructor in Nottingham.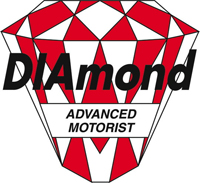 The Diamond Advanced driving test provides you with an
opportunity to demonstrate your advanced driving skills over a
distance of 16 to 20 miles. You can prepare for this by taking
advanced driving lessons in
Nottingham. You will be assessed on your control of the vehicle and ability to plan your actions in good time, driving in an eco-safe manner demonstrating efficient use of gears in sympathy with the vehicle. Manoeuvres that are included in the DSA 'L' test will be examined during the advanced test. The test is marking using the DSA Cardington marking system. As one of the advanced driving instructors in Nottingham I am familiar with the system and can train you to use it easily and effectively.
Prepare with advanced driving lessons in Nottingham
The Diamond Advanced driving test is accredited by the
international association for driver excellence (IVV) and the Driving Standards Agency (who administer the 'L' test) and as such it
represents a real advanced driving qualification which could give you an advantage in the jobs marketplace. It is an advantage when working with driving schools in Nottingham to have a qualification such as this. It can give you credibility and satisfy customers ( and their parents ) that you a thoroughly professional driving instructor. Of course you don't have to be an instructor to gain the sense of achievement that comes with advanced driving. Anyone can take the test. In many other working environments where driving is a part of the job an employer will have piece of mind knowing that the company vehicle will be driven smoothly and be less likely to be
involved in accidents. There may be discounts from some insurers once you have the qualification.
Passing the test also includes one years membership to the Diamond Masterdriver club.
Raise the standard with an advanced driving school in Nottingham.
I remember when I took the Diamond Advanced Driving Test. It was quite a few years ago right after I became qualified as a driving
instructor. Malcolm Bailey from Rotherham was my examiner. He was being assessed by a police driver guy so there were three of us in the car. Things were going smoothly until we hit the motorway to find it totally jammed. The test would last nearly three hours.
As you can imagine, my concentration was wearing down when it came towards the end of the test. After crawling along for ages it was hard to get back into the rhythm of the drive. It's all about
getting relaxed and in a driving state of mind. Spend too much time second guessing yourself and you are bound to make mistakes.
Being relaxed and focussed helps when making quick decisions.
I was directed to a street to demonstrate the Turn in the Road
manoeuvre but the road was too narrow to reasonably be able to do it. I had to do a left hand reverse instead. When I got back I passed with 5 minor faults. Wrong gear on one occasion. Missed a slip road when turning left was another. But I had passed and was well pleased. Why not give it a try yourself?
More info at www.driving.org/diamond
Book your test Here.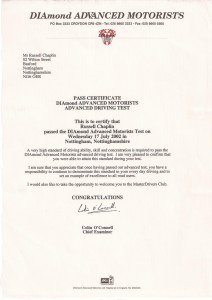 driving lessons nottingham
Institute of advanced motorists wiki
Advanced driving test wiki
Roadcraft wiki