Prices for driving lessons in Nottingham. Quality and value from your local driving instructor in Nottingham.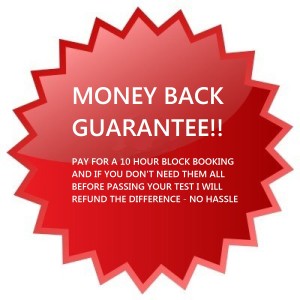 Prices for driving lessons are shown below. Unlike some Nottingham driving instructors I conduct all driver training on a one to one basis. You will never share a driving lesson with anyone else. This means that all tuition is tailored to your individual needs and you will get the practice you need to pass your driving test. It's important that you have a driving instructor who can adapt to your style of learning and can help inspire the confidence you need to become a good driver. You will always get the full
driving lesson time you pay for. On the rare occasion where I am running late for some reason I will always call ahead so you are not left waiting. I will pick you up and start your lesson at the place of your choosing and you can be dropped off at a different part of Nottingham if needed (within reason) as long as you let me know which part of Nottingham in advance.
Nottingham Driving School Price list
Special offer 4 hours for £39.00
Offer is for new drivers who need 10 hours of driving lessons or more. The amount is payable on the first 2 hour lesson with the
remaining 2 hours carried over to the day of your test.
The 90 minute lesson is the shortest I do. 1 hour lessons are poor value for money as not much progress is made during this amount of time. It can make obtaining a driving licence much more expensive in the long run.
1 hour driving lesson
£33.00 (for pricing only. I only do 90 minute lessons)
1.5 hour driving lesson (recommended)
£48.00 – students  £47.00
10 hours block booking
£320- students £315.00
Pass Plus Course ( 6 hours)
£220.00 – (£200.00 if you passed your driving test with me)
90 mins motorway driving course £80.00
Advanced driving 90 mins £60

driving lessons nottingham prices
driving lessons nottingham
Brake Road Safety Charity
Road Safety Foundation
Roadpeace