Driving instructor training in
Nottingham. Start your new career
giving driving lessons in Nottingham
today!
Take driving instructor training in
Nottingham and prepare yourself for a career with one of the many driving schools in the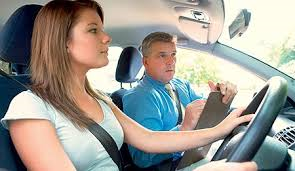 Nottingham area or start up on your own. It's a life where you can be your own boss and work the hours you choose. You
decide when and where you want to give driving lessons. If you have good people skills and want a job that brings real satisfaction and generates a reasonable income then driving instruction could be the career for you!
Make sure and do your research so you get the quality training you need to qualify as an Approved Driving
Instructor. When qualified you can choose to work for one of the Nottingham driving schools or go it alone. The choice is yours.
When I was a driving instructor trainer I would not charge for a whole course up front and you should be very careful about this. Circumstances can change and most fees paid in advance are non refundable except under special circumstances. Always check the small print before paying anything out.
Working for driving schools in Nottingham.
When you select a school to train with, make sure they are well experienced. After spending six years as a fully ORDIT registered trainer I have a wealth of experience. This means that the training offered meets the minimum standard requred by the Driving Standards Agency, and the records of all
training are kept both by the client and the school, this
allows your progress to be monitored and training tailored to suit your needs.
In order to become a driving instructor you will need to fulfill the following DSA criteria:-
Hold a full UK or EU driving licence for 4 out of the last 6 years

Have not been disqualified from driving

Not have any more than six points on your driving licence

To be a fit and proper person in the opinion of the DSA
If you fit these criteria then you are eligible to start your new career as a driving instructor.
It's a driving instructor's life for me.
I have been an instructor for almost 12 years now and I've got to say I've never regretted it and intend to keep doing this for many years to come. I've met some interesting people over the years. Some I have kept in touch with now and again. Some I wave to on the road if ever I see them. I often meet instructors I have trained down the test centre and it's always good to have a laugh and see how they're doing.
I like to work alone which is one of the reasons the job suits me. I have worked for companies in the past doing various graphics jobs and the office environment is not for me. I like the freedom of
arranging my own work. If the hours get a bit long sometimes it's good to know I'm working for my own benefit. I reap the
financial rewards of working extra hours. You will too if you become an driving instructor.
I can book holidays for myself without asking permission. I just
arrange things well in advance so my pupils know what's happening. You've got to look after your pupils and treat them professionally. If you do there's no reason why they won't recommend you to
someone else and that's good for business. I have taken extra
qualifications since passing which are shown on the homepage.
People seem to like a driving instructor who cares about the job. You can build a career and branch out if you like. I give defensive driver courses for company drivers and assessments for older drivers now and again. Helps to keep things fresh if you add a little diversity to your work.
I'd recommend this job to anyone who wants to work for
themselves. Why not take the plunge and become a driving
instructor. You'll never look back.
driving lessons nottingham
Driving Instructors Association
ADINJC
Motor Schools Association