Lessons in driving and life.
I remember when I was a fresh new driver. No, I honestly do remember. I thought that accidents would never happen to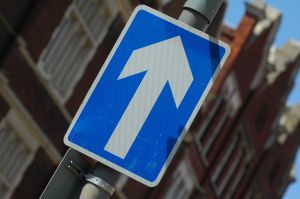 me. I truly believed my driving was absolutely tip top and there was nothing to worry about. This was in the Eighties. Back then the driving test was nowhere near as difficult as it is now because driving was not as difficult. The roads were simpler, cars were slower and there weren't nearly as many drivers on the road as there are today.
So, what puts today's young motorist at risk? Many things. Speeding and racing are two factors. Young drivers enjoying the thrill of acceleration and daydreaming they're a racing pro make things unsafe. You should never drive in a spirit of competition unless you are actually on a race track. Using a mobile phone at the wheel is another one. When you look around and see just about everyone else doing it then it's easy to think it's alright for you. Easy to believe that it's ok because it's generally accepted. It isn't and neither is texting at traffic lights. Yes, I'm looking at you.
Looking for that certain track on your CD is another good one. While your twiddling the knobs and looking at the display you're not watching the road. The car travels a surprisingly long way in the few seconds it takes you to select the track you like. It's easy to have a lazy, carefree attitude when you're comfortable and the sounds are on.
Not really looking ahead for hazards is my personal bug bear. Staring at the next 30m of road you see over the bonnet simply won't cut it. Look as far ahead as you can and move those eyes around to take everything in. Train yourself to do this especially at night. There are fewer cars on the road at night but things are easily missed until it's too late. Get yourself some glasses if you think you need them.
Research shows that young drivers believe that they are less at risk of negative driving experiences than more experienced drivers. Probably because it hasn't happened yet. I couldn't believe my first prang. How could this happen to me? The benefits of taking a risk such as saving time or enjoying the excitement outweigh the risk factors more in new drivers. Life is long and getting somewhere a couple of minutes later won't make much difference. If you've got to be on time then make sure you set off early enough.
 It's all about the right attitude when you're in the driver's seat.
I believed I was one of the truly great drivers when I first started. Over estimating your own abilities can be deadly. Truth is you are not an expert. Thinking you can control the traffic situation is a common misunderstanding. You should never put yourself in a position where your safety relies on someone else. Try to anticipate what will happen next based on what you can see. Not on what you believe another driver will do. Never drive faster than you are comfortable with as your car control skills will take a certain length of time to develop.
'You learn to drive when you've passed your test' is a common myth. The stuff your driving instructor taught you is not something to just forget once you have your licence. Personal experience does count for a lot in driving. When you have just started out on your own you don't have that experience. Remember what you learned during your driving lessons and put it into practice. Everything else will develop in time. Forget what you've been taught and the risk factor is sky high. This is a reason for the high accident rate amongst young drivers and leads to penalty points on your driving licence.
 Driving is such a personal experience.
People tend to drive according to their personality. The driver who is all me me me will be the one jumping from lane to lane trying to force their way to the front of the queue. A disregard for authority in general makes breaking the rules of the road seem much less of a risk than it is. The safe driver will exercise self control and a regard for the safety of others. This will be shown in their driving style. The hot head who doesn't take any kind of responsibility for their actions in life is someone to avoid out there on the road.
So there. Try not to over estimate your abilities and think you have some magical aura which protects you from harm. Be a nice person to those around you. Peer pressure to do the wrong thing can be hard to resist, but resist you must. Set a good example and others will learn from you. Keep it safe and smooth.